Dreaming about Christmas in Paris : the Hotel Trianon Rive Gauche invites you at Galeries Lafayette
Dreaming about Christmas in Paris : the Hotel Trianon Rive Gauche invites you at Galeries Lafayette
December announce the countdown to Christmas. Therefore, we would like to give you all the secrets needed to make the dream of a Christmas in Paris come true. The hôtel Trianon Rive Gauche dives you in the maze of a Parisian dream.
This year again, the tradition does not die. As soon as the most wonderful time of the year comes, the Galeries Lafayette suits their best decorations. The purpose is to make us regain the child sleeping inside of us. Indeed, it is difficult to weather the plight in front of this fairy atmosphere planing on the street.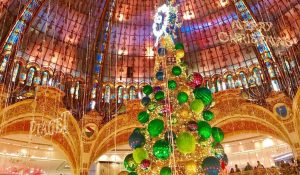 Winter Is Coming
To honor Christmas in Paris, the biggest French brands are there. They allow you to follow the winter trends.
If you are still looking for some ideas to find the perfect gift, Dior, Hermès or Guerlain let you offer their best fragrances, but they can do more! For the ones who really like to take care of yourselves, you can enjoy their make-up boxes and be the prettiest for the Christmas Eve.
Don't miss a opportunity ti shine bright.
The City of Lights like you've never seen her shine before
Once more, the city of Paris honored one of the tradition that makes us love her. For the general happiness, the Christmas windows of the Galeries Lafayette showed up. They plunged us in a beautiful set that gives every year to the City Lights its value.
Paris puts on its silver coat. This year, we got the chance to have a gorgeous Piaget Christmas tree that has been inaugurated on November 7th.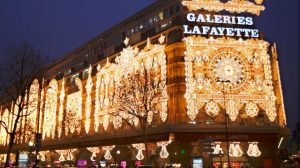 Nevertheless, the Galeris Lafayette are not the only one to emphasize. As a matter of fact, Opentour gives you the opportunity to go and discover Christmas in Paris. It offers you a panoramic visit of the most emblematic monuments of the town : Opéra Garnier, the Champs Elysées, Place Vendôme, Place de la Concorde, Tour Eiffel, Les Invalides and Le Musée du Louvres.
Enjoy a fairy Christmas in Paris, alone or with your family and book your journey in Paris on www.hoteltrianonrivegauche.com!