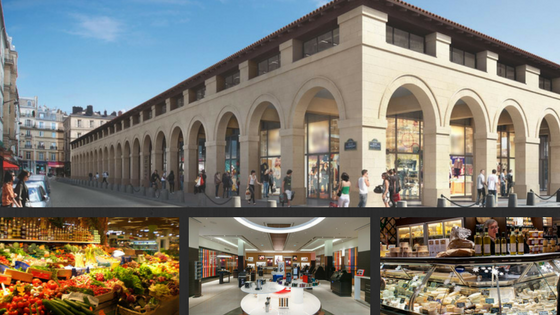 Discover the new Saint Germain market near Hotel Trianon Rive Gauche
Let's go for a shopping stroll this week!
A few steps from the Boulevard Saint Germain and the Jardin du Luxembourg. Here is the Saint Germain Market, ideally located in Mabillon area in the heart of the 6th arrondissement of Paris. Its exceptional location near our Hotel Trianon Rive gauche will delight you during your walks.
First of all, a bit of history! Originally, the presence of a market is already attested as early as 1615, adjoining the Abbey Saint Germain Des Pres. Then a fair takes place in the middle of the eighteenth century. A building was built in 1817, because of the fire of the fair. On the site of this "Blondel market" has been constructed the current covered market Saint-Germain in the 70s. Finally, it just has reopened after important improvement works.
But how best to describe the Saint Germain market? Mostly inspired by the Italian public squares, it is composed of four galleries open on the inside and outside. Mainly a huge covered square of nearly 7000 sqm. You can of course admire all through these galleries, splendid stone arches and large bay windows opened on the street. A perfect echo to the architectural style of the 19th century.
Thus these four galleries host numerous shops. A few minutes from the Hotel Trianon Rive Gauche, you are welcome to stroll among the stores of this historic place. The main international brands have decided to settle there. For instance Uniqlo, Marks and Spencer Food, Nespresso, and the emblematic Apple Store, their largest boutique in Paris. You will surely find your happiness in this gallery which hosts a multitude of different brands, including fashion and luxury brands.
Of course, the Saint Germain market has retained its traditional market size. From the seller of fruit, vegetables and fish to the florist, our hotel is delighted to see so many historical businesses immerse themselves perfectly in this very successful renovation. Two star restaurateurs plan to join the project quickly: the butcher Hugo DESNOYER and Yves CAMDEBORDE.
You may also stop by the many cafés and bakeries that will serve you delicious dishes and desserts. A gourmet walk close to our Hotel Trianon Rive Gauche. Enjoy this special moment in the heart of Paris.
In short, a perfect blend of tradition and modernity, the market awaits you!